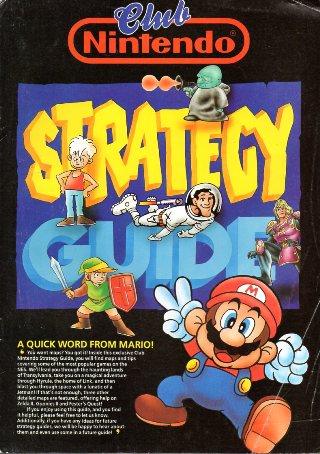 Club Nintendo Strategy Guide
While not as substantial as the main magazine, this guide does at least cram in a select few maps and tips for a selection of NES games. The overworld map of the first Legend of Zelda game is one of the more helpful inclusions, while its sequel is only covered by a single dungeon map.

In contrast with the rather more popular Zelda games, the other four games featured may turn a few heads. Having said that, I'm sure there were many players who welcomed any help they could get for titles such as Castlevania II and Fester's Quest. Rounding off the coverage were Goonies II and Solar Jetman. In all, this special edition of Club Nintendo certainly featured a more eclectic selection of games than some others.
Castlevania II: Simon's Quest
Map
Crystal locations
Misc. tips

Zelda II: The Adventure of Link
Sixth palace map
Sixth palace tips
The Legend of Zelda
Overworld map
Item locations
Dungeon locations
Misc. tips

Goonies II
Maps
Item locations
Misc. tips
Solar Jetman
Planet Omebru map
Item locations
Misc. tips

Fester's Quest
First level overworld map
Overworld tips