(Click here to see the most recent updates.)
Updates Archive 2018-2021
16/10/2021
Part 2 of our 'Night of Horror' gag take is now available in the 'Articles' section! After the daring adventures of Part 1, how does the story continue? Read it, and find out. We hope you have enjoyed our little Halloween treat.
2/10/2021
It's the beginning of October so, to mark the start of the 'spooky season', I have made a new 'gag take' of the German Club Nintendo comics: The Night of Horror. This is probably one of the most famous of these comics, so trying to make an already silly comic even sillier was quite the task. Nevertheless, Part 1 is now available in the 'Articles' section for your reading pleasure, with Part 2 due to arrive within the next few weeks. Enjoy.
27/8/2021
Since the previous announcement, it seems as though our previous guestbook host - 123Guestbook - has gone for good. So, I have created a brand new guestbook hosted at UltraGuest. I hope this one serves us as well as 123Guestbook did.
Thanks to the Wayback Machine, I have also managed to retrieve some backups of most of the messages from the old guestbook. They, along with the links to the new guestbook, can be found at the brand new 'Guestbook' page. I thank you all for your patience and understanding.
15/8/2021
The only real site update today is a little addition to the list of where to find English-translated comics; specifically, the Ocarina of Time 'special edition' comics hosted at Zelda Legends.
The bigger concern, however, is the guestbook. As you may have seen on the front page, the host service for the CNA guestbook has been down for nearly a week at the least (since I first found out, anyway). If we don't hear anything soon, then I'll likely be looking for a new service. The real bad news is that the previous messages were never backed up. However, to my surprise, I found a snapshot of the guestbook dating back to last June, courtesy of the Wayback Machine. It's not the most recent snapshot and, thus, is missing some of the newer messages, but it's something to look back on as this issue gets sorted.
5/7/2021
If you enjoyed the 'gag take' comic that was uploaded last Christmas, you might be interested in this latest update: a new addition to the 'Overseas' section dedicated to information on these weird and wonderful comics, and where you can find them. On top of this, the main 'Overseas' page has had a little spruce-up. This is a section I'd like to add to as I find out more about other versions of the magazine.
On top of that, there have also been a few corrections and small text changes here and there.
Finally, Club Nintendo Archives had its fourth birthday last month. Doesn't time fly? Enjoy the updates!
12/12/2020
As a thank you for visiting this site, we at Club Nintendo Archives have a Christmas treat for our readers: a Christmas comic! However, this is no ordinary comic; this is actually a 'gag take' of a comic that was originally published in the German Club Nintendo magazine. We hope you enjoy our parody version of this already-silly story.
There has also been a small update to the contact information on the 'Site Info' page, as I have recently changed email addresses.
Finally, we wish you all a very Merry Christmas and a Happy New Year!
22/9/2020
The 'Articles' section has received a slight tidy-up, along with a new page: the 'Backpage Adverts' gallery, a showcase of the adverts that were printed on the back covers of each issue. As for the 'Articles' section itself, the main page is now a contents page, and the already-existing parts now have their own individual pages.
20/8/2020
Today marks perhaps the most exciting update of the site's history: the completion of the 'Magazines' database! Thanks to RetroDetect, the final missing issue - Volume 4 Issue 3 - has been added to the site. So, what does this now mean for CNA? Well, it's not going anywhere, if that's what you're worried about. In fact, I have a few updates on the backlog to work on, mainly focusing on the 'Articles' section. That's all still to come, though. For now, enjoy the complete UK Club Nintendo Archive.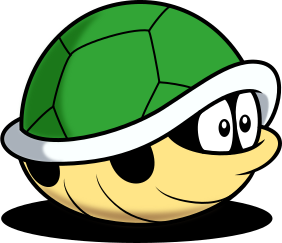 "Does this mean I'm out of a job, now?"
23/7/2020
We have some exciting updates today!
'Magazines' Update:The main 'Magazines' section has had another update. With thanks to N-G-M again, the issues that were added in the previous update have now gotten content lists! On top of that, the SNES version of the Strategy Guide has been added, with images and information provided by Dave!

'Magazines' Update 2: On top of the above additions, I have also attempted to neaten the contents listings for each issue. The layout is roughly based on a mixture of the previous versions, involves tidier code, and should also be easier to alter should any corrections be required. On the topic of corrections, should there be any mistakes made in the information during the layout change, you can contact me by email (details on the 'Site Info' page).

And Finally: I have in the past expressed my gratitude to the people who visit this site, and it seems even more thanks might be required! I have noticed a huge upsurge in visitors these last few months, and cannot believe that this many people have shown even a glancing interest in this little, niche site. To everyone who has ever visited CNA - old fans and new - I thank you all so much.
12/6/2020
Today is Club Nintendo Archives' third birthday, and what better way to celebrate than with this update. Thanks to N-G-M of Retro Collect, we now have covers for the remaining issues from Volumes 1 and 2! On top of all that, we also have magazine information for issue one, thanks to Samtoons, who got in touch through the Guestbook. While my own personal collection is far from complete, I am at least happy that I can give you, the fans, a fuller-looking site. Here's hoping CNA can stick around for a few years more!
7/5/2020
The Koopa-koders thought the main logo needed a spruce-up, so it's had a little face-lift. The banners and buttons have been altered to match, and the headers have had a little change as well.
11/2/2020
We have a bumper crop of updates this time, so let's see what the Koopa-koders have cooked up...
4/9/19
I've added the seeds of a new section to the site: Articles. In this section, I have added a few interesting pages from the magazine. It's currently a single webpage, but if things go well, it could easily be expanded into a much larger section.
I have also added a 'timeline' section to the Site Info page, so you can get a glimpse into the site's milestones over the years.
14/6/19
A new standard size button has been added to the Links page, thanks to empeethree.
2/6/19
I've held off on doing this for a long time, but I understand some people still like to use banners and buttons for linking. So, in the spirit of things, I've added some Club Nintendo Archives banners and buttons to the Links page for your use. All I ask is that you please save them to your own files/servers rather than linking them straight from the site. Many thanks to those already spreading the word, and I hope you enjoy the banners!
1/2/19
Again, just some small updates. One of them holds more significance than others, though.
New checklist addition: Believe it or not, the current listing for the various Club Nintendo issues was incomplete! Thanks to some information from 'Nintendoid', I have since learned of the existence of another strategy guide from this magazine, this time with a focus on SNES games. I have added its placeholder button to the 'Specials' page, thus adding at least one other Club Nintendo issue to be on the hunt for. Nintendoid is, himself, a retro magazine and merchandise collector, and you can visit his site here.

Actual credits: Because I can't do it all alone! I have added credits on the relevant pages for information and images I get from elsewhere, rather than my own resources. As well as the aforementioned 'SNES Strategy Guide' credit, I have also added some long overdue credits for the overseas Club Nintendo covers on that page. Hopefully, I've now given proper credit where it's due.

New placeholder graphic: Final update for now. In my bid to use more of my own sourced and created images, I have created a new graphic for the 'Not Currently Available' placeholder buttons. Of course, it would be nicer if such buttons weren't there in the first place, but that will hopefully change in due time.
Seems like I've been updating more than usual these past couple of months. No matter whether the changes are big or small, I hope you continue to enjoy Club Nintendo Archives.
27/12/18
Just a few little alterations this time.
New background colour: Since the original site design, I have become aware that white backgrounds can be a bit too bright for some people, especially over long periods of browsing, so I've changed the background colour to keep the brightness in check. It also makes the site look a little less bland, wouldn't you say?

Small changes: 'Site Info' has had a few alterations in wording in order to neaten up the text. The key content has remained unchanged. On top of that, 'Links' has had a few alterations; some links have been removed, while new ones have been added.

An announcement: As some of you may know from the previous update, as well as building the site, I also created the webgraphics you see in the headers and on the front page. If you wish to see more of my work, then you might be interested in my latest venture: CeeGee Toons. At the moment, CeeGee Toons is a pair of online stores selling t-shirts, hoodies, and other merchandise all bearing original artwork that I have created. So, if you enjoy my art, you can now wear it (or drink from it or store your laptop in it)! Even better, any money earned from CeeGee Toons could potentially be used to improve on CNA in the future! Interested? You can visit CeeGee Toons here and here.
That's it, and I hope you all have a great new year.
28/6/18
First of all, we have already passed one year of Club Nintendo Archives, and I'm very glad to see that people seem to be visiting and, hopefully, enjoying it. Now, onto the updates.
New headers: I felt it was time the headers and logos were spruced up a little. I also decided to give the front page logo and all other headers a little consistency in appearance.

New graphics: Alongside the new headers, I have designed a set of new graphics for the site. I hope you enjoy seeing these classic Nintendo symbols, characters, and items dotted about.

Cleaning up: I have also tidied and altered in various places around the site, including some slight layout changes and removal of redundant links. Aside from some new headings, the content itself has remained untouched.

An apology: Finally, I'd like to aplogise if you were expecting the addition of the missing magazines in this list. Unfortunately, current circumstances have caused me to put aiming for the full collection on hold for now. I apologise again if that was what you were expecting, and can only say that I hope to obtain more issues as and when I can.
If you have any questions about the site not covered here or elsewhere, then you can email me at chezhawkwolfATgmailDOTcom.