Club Nintendo in Other Countries
Being a pan-European publication, Club Nintendo was distributed in numerous countries. At first, the magazine was identical between countries, just translated into different languages. However, starting around 1990/91, the magazine slowly split into individual regional publications; the name was the same, but the staff, content, and layout were very different from each other. By 1993, each country had its own unique version of Club Nintendo. Some of these would last well into the '90s and beyond, while others would fall by the wayside. Here is a quick summary of some of these individual versions of Club Nintendo.
Germany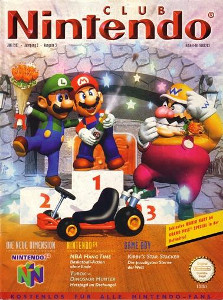 Of all the different regional versions of Club Nintendo, the German edition is perhaps the most well-known. Starting around 1990, this version would prove to be very successful, lasting through the latter half of the SNES years and the duration of the Nintendo 64's lifespan. It would eventually be discontinued in 2002, the year which saw the Gamecube's European release.
It's fair to say that the main reason for the German version's popularity nowadays is its various comic stories, which would either promote newly-released games or put classic Nintendo characters in unusual situations; these would include a detective noir-themed Kirby comic and a horror-themed story featuring various Nintendo characters.
You can read more about the German Club Nintendo comics here.
The Netherlands
The Dutch version of Club Nintendo was rebranded into Club Nintendo Extra in 1993. As well as the usual changes in layout, articles, and staff, the biggest change was that Club Nintendo Extra was a retail magazine; subscribers now had to pay for CNE, and it was also on sale in newsagents. Club Nintendo Extra would last until 1997, the year in which the Nintendo 64 was released in Europe.
(Thanks to Dennis Fleaman for his informative video.)
Club Nintendo Outside Europe
There were also at least two other publications titled 'Club Nintendo' outside of Europe. One of them was connected to the European version, while the other was its own separate entity.
Australia
Catalyst Publishing brought Club Nintendo magazine to Australia in 1991, mainly using material previously published in the UK version. Interestingly, some early issues used the Nintendo Power name and logo from the US. This version didn't last very long; it was discontinued around the same time that Australia started receiving its own version of Nintendo Magazine System (which Catalyst itself would eventually take over in the late '90s).
Mexico and Latin America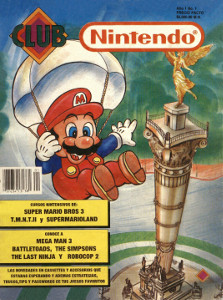 Although Mexico's Club Nintendo is its own unique publication, it is such a fascinating magazine that I feel that it is still worth a mention, nevertheless.
Created by the late Gus Rodríguez - himself a big Nintendo fan - and first released in 1991, Club Nintendo quickly became the number one magazine for Nintendo news, information, and tips in Mexico and Latin America. From December 2014, coverage moved to split formats, with Mexico receiving digital-only issues and Latin America continuing to receive the magazine in print. Club Nintendo eventually ended in early 2019, its 28-year run marking it out as one of the longest-running Nintendo magazines in the world!
If you would like to learn more about this Club Nintendo, then I highly recommend GTV Japan's video Club Nintendo: The Story of Gus Rodríguez and Gaming in Latin America, which gives an informative history of the magazine.
Picture credits: German Club Nintendo cover image - Mario Wiki, Mexican Club Nintendo cover image - Internet Archive.